Offers can be created to apply against Orders, Order Items or Subscriptions. They can be created as Percentages or Fixed Amounts and can be limited to certain Products, Product Groups or a number of usages.
To create an Offer click on Products from the Navigation menu:

Then click on the Offers tab:

Click on Create Offer and the lightbox will appear for you to enter the Offer details. Start by entering a Display Name for the Offer and optionally a Description: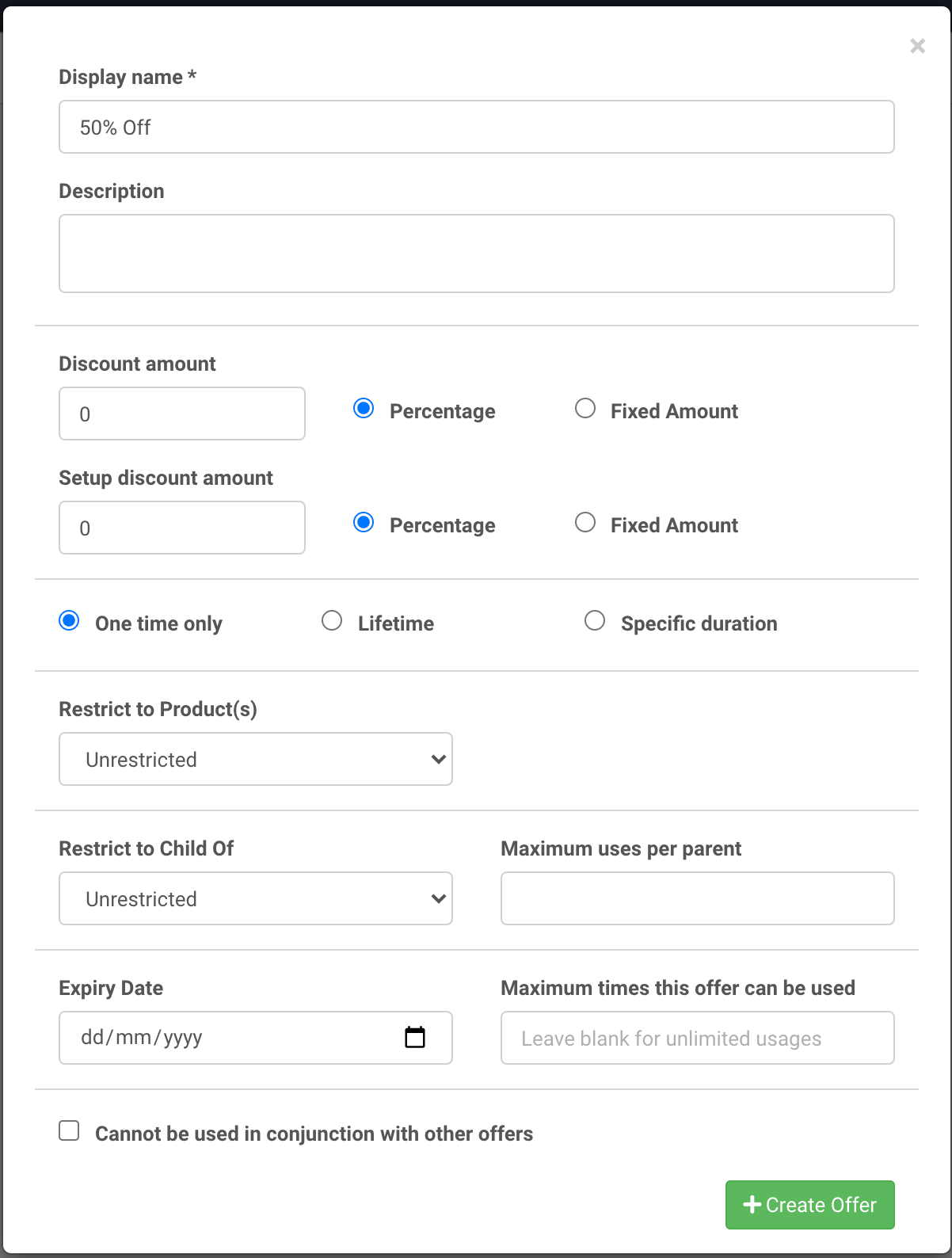 Next you can define the Discount Amount and select if this is a Percentage or Fixed Amount discount.
You can optionally also put in a Setup Discount Amount. This is applied if the Product Price you are applying the Offer to includes a Setup amount.

Next you can define the duration for this offer. This is mainly used for Offers applied to Subscriptions, as at the point of renewal Offers can affect the Renewal amount. The options are:
One time only - Only applicable for the time the offer is used
Lifetime - The Offer will be applied to the Subscription and will remain applied for the lifetime of the subscription
Specific duration - This will allow you to assign a set amount of time, after which the Offer will be removed from the Subscription
If selecting Specific duration then a length and term fields appear so you can set the time duration for this Offer, after which it will expire:

You can then set whether this is Restricted to Products or Product Groups. The options for this are:
Unrestricted - This Offer can be applied to all Products
Restrict to a Product - This Offer can only be applied to this Product. If added to an Order, this will only discount the Restricted to Product on that Order
Restrict to a Product Group - This Offer can only be applied to a Product Group. If added to an Order this Offer will only discount any Products on that Order that are within the Restricted Product Group

The next setting is similar but is based around Parent and Child Subscriptions. Subscriptions can be set as Chrildren of other Subscriptions, making those Parents. You may want Offers to only apply to Subscriptions which are children of a specific Parent Subscription. For instance you may sell a Main Subscription product of 'Antivirus'. To encourage additional purchases of Subscriptions reliant on the 'Antivirus' subscription such as Priority Support and Additional Licences, you might provide a 20% offer code.
This is where you would set that Restriction, defining this is restricted to Children of the Product 'Antivirus' in this example. You can also set the Maximum uses per Parent here, ensuring this can only be used for a set number of Child Subscriptions

Next you can define the Expiry Date for this Offer. If you do not define a date here then this Offer will never expire so can be used indefinitely. However if you have an offer you want time limited, you can set an expiry date here, after which time if this Offer is applied it will not take effect
You can then optionally set the 'Maximum times this offer can be used'. If you leave this blank then this Offer will have unlimited usages. If you set a limit here then the Offer will only apply for that number of uses. This is useful if you want to create a Coupon to advertise with offering the first 1000 people a discount for instance. Once that limit has been reached the Offer will no longer have an impact.
Finally you can select whether this Offer can be used in conjunction with other Offers. If you tick this, then when this Offer is applied to an Order, no other Offers will be able to be applied to that Order.
Click Create Offer when you have filled in all of the configuration options you want and the Offer be created and you will be shown an overview of this Offer:

You can edit the Offer Name, Description and Maximum Usages.
A Coupon Code is generated and displayed for this Offer as well, this can be published to customers so they can enter this on an Order Form to apply this offer.