In order to use Fortifi Support Tickets you need to ensure emails sent to your support email addresses are forward to Fortifi to create Support Tickets.
We validate emails we receive are meant for Fortifi by checking the Domain on the email matches a Verified Domain in Fortifi. 
So firstly ensure you have Verified your Domain.
Once this is done you have two options on how to send emails to Fortifi, depending on whether you are happy for all emails sent to your domain to be sent to Fortifi, or if you are using your domain for personal staff emails you might want to only forward emails sent to a specific email address such as support@ on to Fortifi.
To set the forwarding to Fortifi either:
Update your MX record to point to mail.fortifi.zone - This will automatically forward all email sent to this Mail domain on to Fortifi.
Forward Specific Email Addresses to mail.fortifi.zone - This allows you to determine which email addresses you want to forward on to Fortifi, rather than having all mail for that domain fowarding.
If pointing the MX record to mail.fortifi.zone, we will start processing all emails we receive as Support Tickets.
If you are forwarding specific Email addresses to Fortifi you will need to add those email addresses to your Domain.
To do this click on Brands from the navigation menu and then click on the Brand you are setting up. Click on Settings and you will see Domains listed in the menu under the General section:

Click on the Domain you are setting up and you will see a tab for Mailboxes within the Domain settings: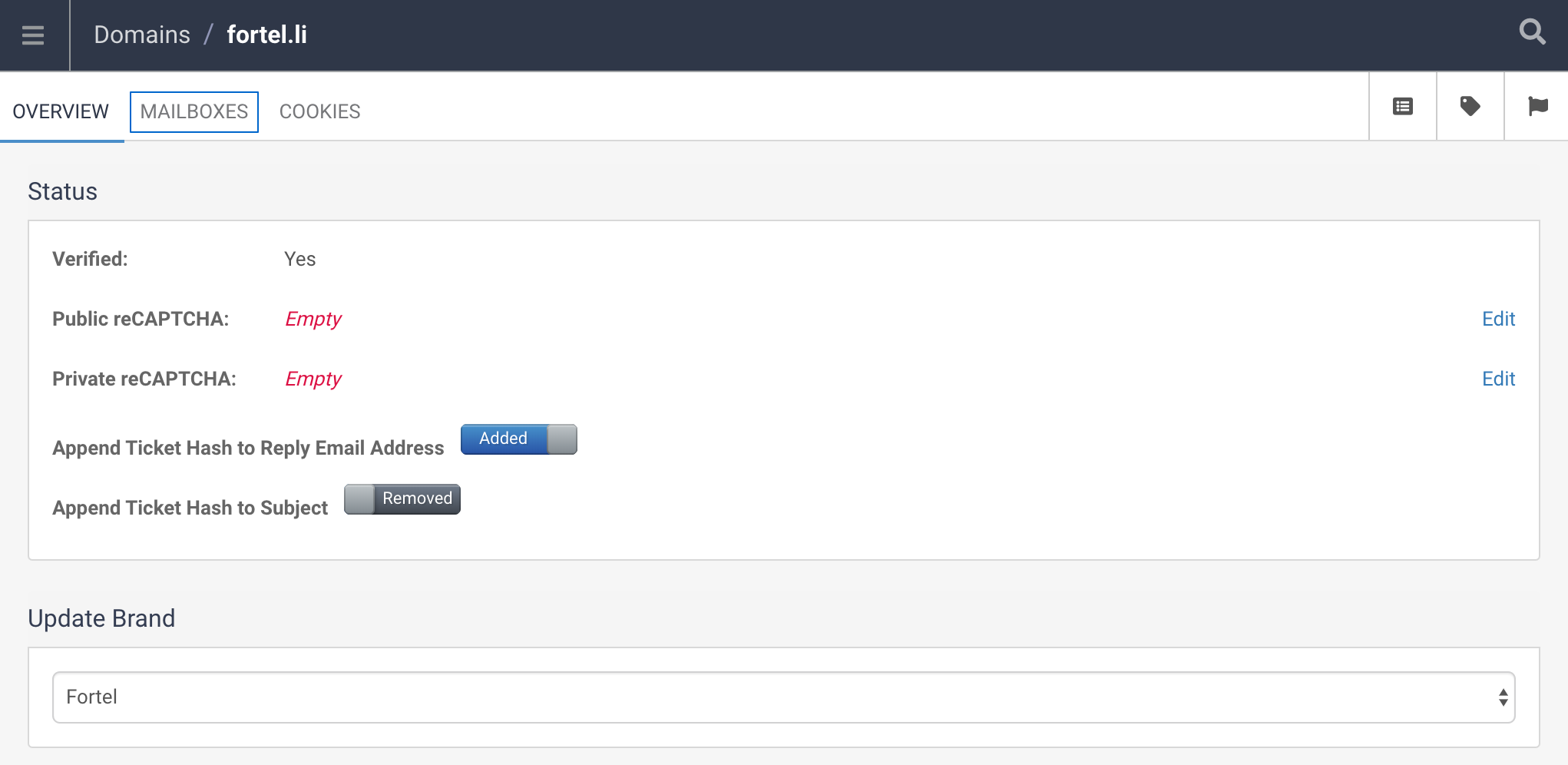 When you click on the Mailboxes tab there will be an option to Create a Mailbox.
Enter in a Display Name for the mailbox along with the exact email address that you have setup to forward email to Fortifi in the Mailbox Name.
When you click to Create Mailbox we will start validating incoming messages from this email address and creating these as Support Tickets.